I had spent my weekend doing site visit to a resort in JB despite recovering from a bad case of flu. Made sure to pack a pouch full of medicines and a stronger one prescribe by my doctor (for the' just in case' situation) and off we, my partner and I went to join the Team.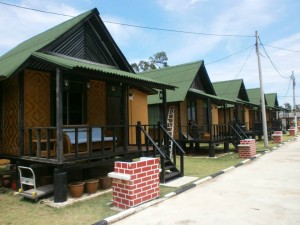 Waking up very early on a Sunday morning, I had decided to take a walk alone around the perimeter of the resort. It was dimly lit and it was still quite dark. Despite the darkness, I felt very safe which is a plus point… The air was cool, feeling the morning breeze brushing against my face, listening to the rustling leaves, studying the area, enjoying the quietness and the solitude and with time in my hands to appreciate Mother Nature…. This is certainly a heavenly experience! I was in the' zone'. I can hear myself think, the creative juice started coming in and I started 'seeing' the potential of this place…..Oh my!!!
As the sun rises, the resort gets brighter and next on my agenda was to see and have a feel of their workday. The staffs were friendly including the owner. I felt at home instantly!! This could be my home away from home should I need a place to 'crash' to do my work when I am in the area in the future. Exploring further, I went to check out the karaoke room, the barbeque area, the children's playground, the jetty and even the kedondong tree ..aha!
After lunch, we did our discussion with the rest of the team in the lounge area and was served with good old kampong kopi-o which I would say to be the bestest ever, specially prepared by the owner. It has been ages since I tasted such good kopi-o; it reminded me of those wonderful time spent with my late grandma at her kampong.
Our work is done and it's time for us to leave. Back in Singapore, the hard work begins. It was a wonderful experience meeting the rest of the team. To the Singapore agent, THANK YOU for choosing Razzqee to be part of your team.
– Nora