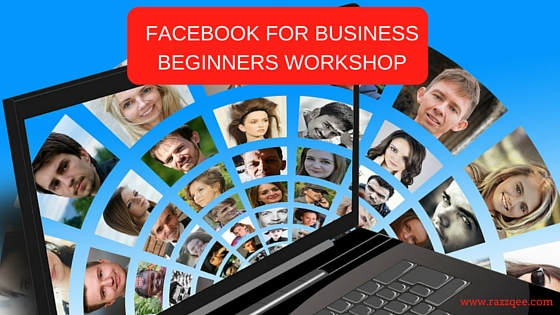 There are 1.59 billion people on Facebook each month.
There are 50 million small business using Facebook page.
You have heard so much buzz about Facebook and till today, it still remain as the most popular, flexible and robust social-networking site on the Internet.
As an entrepreneur, solopreneur or aspiring entrepreneur, you feel so compelled to learn Facebook. You do not want to be left behind.
But…
You feel unsure, uncomfortable or not confident to use it.You wish that someone out there is able to guide you properly especially in the early stage.  
Then, this workshop is for you. The interactive  hands-on workshop is dedicated to helping you learn how to properly set up your profile, understand the structure of Facebook and apply best practices.
By the end of this workshop, participants will :
✅ Have created a Facebook profile
✅ Be able to edit your profile and customize who sees what
✅ Be able to set privacy levels
✅ Will be able to post statuses, links, photographs to your timeline
✅ Finding and interacting with Facebook friends
✅ Sending messages and chatting with friends
✅ Best practices to keep your data secure
Course Duration:
2 sessions (Saturday)
Dates: 4 & 11 June 2016.
Time: 9.30 am – 12.30 pm
Training Venue:
Your investment:
$150 per person
Class size : Min 5 pax / Max 8 pax
 **Bonus:
✅ Free 1 session of group coaching valued at $150
Who should Attend?
Entrepreneurs or Solopreneurs
Aspiring entrepreneurs
Beginners
Individuals who want to learn and understand the usage of Facebook
We will provide:
Course materials
Participants will be required to:
✅ Bring their own laptops (Wifi provided by training venue)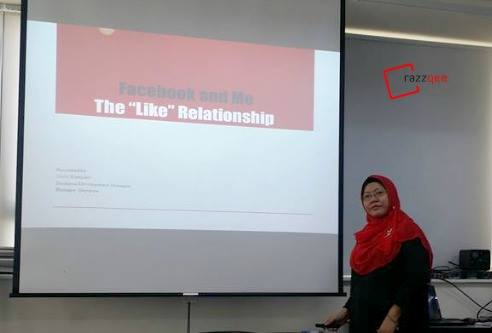 Profile of Trainer
Nora Kamsani has been a Business Development Manager for Razzqee Services since 2010, overseeing sales and business development for the growth and expansion of the company. The core business of the company is providing Internet marketing solutions to individuals, SME's and corporate entities.
A self-motivated person by nature, she is a strong believer of lifelong learning, Nora keeps herself current and abreast of developments by consistently attending talks and workshops by Enterprise Development Centre (EDC@SMCCI),  Singapore Malay Chambers of Commerce and Industry (SMCCI) and by other organisation relevant to the industry.
She was engaged by EDC@SMCCI, training the Association of Muslim Professionals (AMP) Micro Business participants in IT Communications and Social Media for 3 consecutive years. Her  exposure to training at AMP has actually sparked her interest to pursue continuous learning in accredited training program to extend a holistic and current application. She is also active in training individuals privately and has held a talk on "Facebook and Me – The Like Relationship" last November and is planning to hold more of such talk.
What other's are saying:
Because of her expertise in the area of Social Media, EDC@SMCCI contracted Ms Nora Kamsani of Razzqee Services to conduct on the use of Facebook for promoting participants' home-based businesses.

Micro Business Programme (MBP) participants were divided into groups based on their IT skill levels – ranging from beginner to advance level.  She taught 48 participants in 5 different classes over a 5-day period. She was able to project professionalism in both her content and delivery.

She was able to meet the expectations of the participants and also showed confidence in delivering the content and in engaging with the participants. She adjusted the pace of her delivery to suit the abilities of her student. She also added more value to her training by not only covering on the technicalities of the subject but also including soft skills, such as dos and don'ts of Facebook usage.

She is also a great team player. In the same class, other than Facebook, EDC@SMCCI also taught Microsoft Office to the participants. Although she was not obliged to, she willingly assisted the instructor in hand-holding the participants in the use of this software during class exercises. Her soft and warm approach has made the training sessions a success and significantly increased the value of the training. We greatly recommend Ms Nora Kamsani in providing training on the use of Facebook.

Zakaria Abdul Gapor
Centre Director EDC@SMCCI
— To register, click http://bit.ly/Facebook-for-Biz-Workshop
Nora Kamsani is a wonderful IT consultant from Razzqee. She took time to explain about making our business website and how to optimize our FB account for business social networking. She explained well the rules and regulations regards to social networks for business.

Nora has impressed me with her knowledge of her services and ability to match these to our needs certainly made a big difference. I would recommend Razzqee Services to other business partners and friends.

Thank you, Nora Kamsani.
Regards,
Tini
—
Alhamdulillah, few years ago I attended a micro biz programme and one of the topics covered was IT communication. This course was conducted by Ms Nora Kamsani. A very friendly and patient trainer who has vast IT knowledge. Ms Nora is very efficient and helpful.

Though in our group there were students who came with various level of IT knowledge, she managed to control the situation quite well. Being creative not leaving those who were quite advanced feeling bored while waiting for those who had zero knowledge. She was enthusiastic in sharing lots of info's with regards to setting up a fan page and related real life situation and experience of other F&B owners, which was very beneficial for us.

I would highly recommend others to join Ms Nora's programme.

Sincerely,
Suharti
To register, click http://bit.ly/Facebook-for-Biz-Workshop
* Seats will only be confirmed upon receipt of payment. Seats are limited.
** Tickets purchased are non refundable.